On Rhizomes, Theories, Conversations: The Living Classroom
I've been following at a distance but with close interest the movement around rhizomatic learning and more recently what Dave Cormier and the gang have been up to in the MOOC #rhizome14 . I just wish my day had so many hours…
No matter the fact that I haven't been able to join the group, conversations with a dear friend and co-worker have revolved around the theme, mainly because after a period of marinading in digital-related matters, Clarissa has now left the secure place of a cocoon and is totally into exploring her own boundaries (or not) in a rhizomatic-learning world.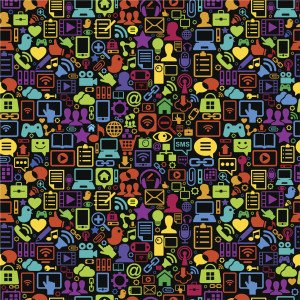 You might be wondering what this rhizome thing is all about, so I invite you to embark in a concept that might be too abstract at first, but when it sinks in and you start to experience it through your own connections with other like-minded professionals or through the changes you make in your classroom, it is like living in the edge of the next move, the next connection, learning, discovery. So, start by reading Dave Cormier's Rhizomatic Education: Community as Curriculum . It seems to me that his article from 2008 makes more sense than ever. I remember years ago I had a discussion with Dave in the Ed Tech Talk show happening on a Sunday evening, as I could understand the power of rhizomatic education, but I felt it was too loose for my own reality as an English teacher in an institution with thousands of students and 250 teachers. I still feel I am al
ways juggling the formal vs informal, the community vs personal needs, the institutional demands vs the freedom of learning, the textbook vs the world out there. However, more and more I've been experimenting with the power of the digital platforms to try to make my students go beyond the learning via a teacher. Learning is community-based, social, disperse in so many spheres of possibilities. Now, I have an extra challenge with my adult students who expect me to be their provider of content. I cannot change it all at once, but I can take small steps to build community, to let them be more autonomous, to take their practice to the next level. It's not always a simple or easy task, but generally a rewarding one. Some will embrace, others will live with it, and some will just say you're not doing your job. The important thing is to amplify our vision and understand education should be more like weeding; it should be much less about keeping the "tree of knowledge"up with its fixed roots and branches. For more on that, I've just read a very interesting post that might clarify the concept,

Back to Clarissa, I've seen her move to the more rhizomatic grounds. To say the least, she is taking it to the edge, exploring the possibilities in her own professional development, which is certainly having an impact on her classes and her own beliefs of what education is about. She has been blogging fearlessly as ifshe had done that from birth, she is tweeting, connecting, but mainly, she is spreading her enthusiasm in such ways that it has had contagious effects on our co-workers. I take a seat and watch one more amazing educator understand the moving and intricate sands of learning.Bonnie
Stewart's post, Do you Know Networks? On Leaving the Garden of Eden .
How about you? Ready to explore more in depth the concept behind rhizomatic education?